"FLOWRISE" "A" Pattern Diaphragm Valves are Mfg. As per the International Standards of BS, ASA, DIN ND-10/16 in a different combination of Body & Seat Material to control the Line Fluids with Zero Leakage. A Uniform weir Profile ensures the Steady Flow of Line Fluids.
Our Valves are Mfg. With various Body Elastomer Lining like Ebonite, Neoprene, Butyle, Hypalon, P. P. H.D.P.E. & P T F E with suitable lining thickness (t) for different sizes of valves. These valves can be effectively used to handle Pharmaceuticals, Foods, Dairy Products, as well as Beverages & water Treatment Plants.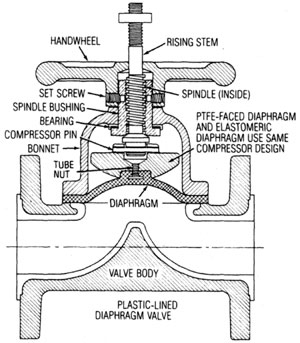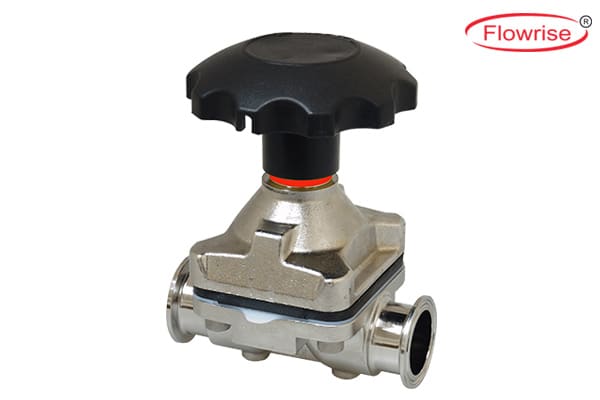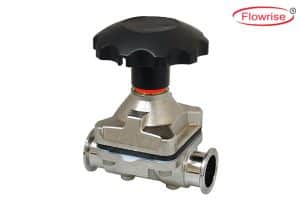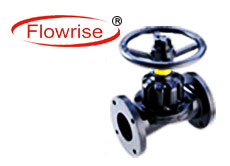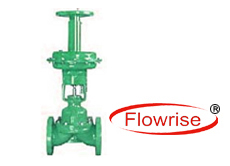 "FLOWRISE" a patterns and stright though diaphragm valve are mfg. As per the international standar with bs,asa,din 10‐16, in a different combination of body‐seat and rubber lined materails to contorl the lie fluids with zero leakage. A uniform weri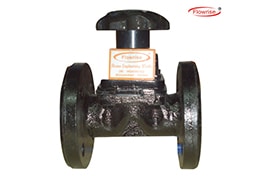 Profile Ensures The Steady Flow of Line Fluids.
"FLOWRISE" Diaphragm valves are used on Shut‐Off And Throttling Service For Slurries, Liquids, Water and Vacuum."FLOWRISE" Diaphragm A Seal is Achieved by a smoothly membrane, usually elastomer and possibly reinforced with a metal part The Membrane is tensed by the effect of a Stem/Compressor with lineal movement until contact is made against the sea of the body.
"FLOWRISE" Diaphragm The Operating parts of the diaphragm valve are isolated form the flow. It's makes this valves suitable for various flows and also hazardous, abrasive and corrosive flows as its sealing system avoids any contamination towards of form the Environment.
"FLOWRISE" Diaphragm Valve are available in a Wide Variety of Metal, P.P., PVC, Rubber and PTFE Linings. They are well suited for the handling of multiple chemicals applications both clear fluids for water – air as well as slurries.
"FLOWRISE" Diaphragm Valves have an extremely Use for applications at low pressure and slurry fluid where most other kinds of valves corrode or become obstructed.
"FLOWRISE" Diaphragm valve is Smooth & Quick Operating and Opening Valves. Below Some Various Style Diaphragm Valves.
"FLOWRISE" Weir 'a' design valve can be used for either off/on and throttling services.
"FLOWRISE" Straight through (kb) type used for on/off services.
| | |
| --- | --- |
| Size Range | 15MM TO 300MM |
| BODY | CAST IRON, CAST STEEL, S.S. 304/316, ALUMINIUM , P.P.,PVC. |
| MFG.STD | BS 5156 |
| INSP.Test STD | BS 5146 |
| End Connection | ASA CLASS 150, TABLE-D/E, DIN 2533 |
| Face To Face | DIN 3202 |
| Body Pressure | PN 10 |
| Spark Test of Rubber Lined | 10KV |
| Temperature Range | FORM 10*C(‐14*F)UP TO + 170"c(+350*F) DEPENDING ON MATERIALS. |
| Operated | MANUAL, Spring Diaphragm Actuator Operated. |
| | |
| --- | --- |
| Type | "A" Weir Pattern, Straight Type (KB) |
| MOC | C.I. / C.S./ SS 304 / 304L / 316/ 316 L / Polypropylene |
| Pressure Rating ASA | 150# |
| End Connection | Screwed End / Flange End |
| Size | 1/2″ to 12″ |
| Widely Used For | Diaphragm Valves for Pharmaceutical Industry, Food, Dairy, Chemical Industries and Many More. |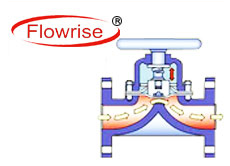 | | | |
| --- | --- | --- |
| Name of Part | Qty. | Material |
| Spindle | 1 | Carbon Steel |
| Hand Wheel | 1 | CI IS 210 GR.20 / PVC |
| Grip Lock Screw | 3 | Carbon Steel |
| Bonnet | 1 | CI IS 210 GR.20 |
| Bushing | 1 | GM ASTM B 62 |
| Thrust Collar | 1 | GM ASTM B 62 |
| Compressor Pin | 1 | Carbon Steel |
| Compressor | 1 | CI IS 210 GR. 20 |
| Diaphragm Stud | 1 | Brass |
| Bonnet Bolts | 4 | CS A 307-GB |
| Bonnet Nuts | 4 | CS A 307-GB |
| Diaphragm | 1 | Neoprene / EPDM / PTFE |
| Body | 1 | C.I. / C.S./ SS 304 / 304L / 316/ 316 L / Polypropylene |
| Lining | – | Ebonite / Neoprene / EPDM / PTFE / Viton / Silicone |
| Grease | 1 | Brass |
| | | | | | | | | | | | | | | | | |
| --- | --- | --- | --- | --- | --- | --- | --- | --- | --- | --- | --- | --- | --- | --- | --- | --- |
| Size | M.M. | 15 | 20 | 25 | 32 | 40 | 50 | 65 | 80 | 100 | 125 | 150 | 200 | 250 | 300 | 350 |
| A | M.M | 102 | 117 | 127 | 146 | 159 | 190 | 216 | 254 | 305 | 356 | 406 | 520 | 635 | 750 | 750 |
| B | M.M | 76 | 90 | 108 | 120 | 142 | 171 | 200 | 241 | 273 | 324 | 368 | 514 | 610 | 710 | 914 |
| C | M.M | 70 | 70 | 100 | 100 | 114 | 150 | 150 | 200 | 250 | 300 | 350 | 482 | 610 | 710 | 710 |
| D | M.M | 9.5 | 15 | 17 | 19 | 21 | 28 | 32 | 45 | 60 | 65 | 80 | – | – | – | – |
| Thickness of Rubber Lining | M.M | 3.0 | 3.0. | 3.0 | 3.0 | 3.0 | 3.0 | 3.0 | 4.0 | 4.0 | 5.0 | 5.0 | 6.0 | 6.0 | 6.0 | 6.0 |
Body Material
Body Lining
Diaphragm
End Connection
Type
Pressure Test
Cast Iron
Natural
Natural
BS-10 Table D / E&F
INDICATING / NON INDICATING STEM
Body :20KG/cm2
Cast Steel
Ebonite
Natural
ASA Class 125 & 150
Diaphragm Pneumatic
Seast :10KG/cm2
Stainless Steel
Neoprene
Neoprene
DIN ND 10 & 16
AIR : 7KG./cm2
Hastealloy
Butyle
Hypalon
Screwed to BSP & NPT (20 TO 50 MM)
Aluminium
Lead
Butyle
Bronze
P.T.F.E.
Silicon
Hypalon
P.T.F.E.
Viton Faced