Industrial Butterfly Valve, Butterfly Valves Manufacturer
Beena Valves are known for their brand name in manufacturing different types of valves in the industry. A butterfly valve is a valve subsist of a rotating circular plate or a pair of hinged semicircular plates, attached to a transverse spindle and mounted inside a pipe in order to regulate of prevent flow.
A Butterfly Valve by Beena valves are used to control the flow of material through a circular pipe or tube. Normally the material is air, gas, steam, or liquid or certain dry materials may also be handled through a Butterfly Valves In India.
The valve is made up of a body, seat, disc, stem, and actuator. Each component part is available in an assortment of materials called "trim features." Properly combining trim features to address material handled and environment is important in selecting the correct model valve for its intended service.
Applications of Butterfly Valve
As stated earlier, Butterfly Valves are generally précised for most air, gas, steam, and liquid applications. They offer an excellent, economically priced, positive shut-off valve for handling materials (e.g. gases and liquids) that are easily displaced by the valve disc as it closes. When handling this type of material, butterfly valves provide a reliable, bubble-tight, bi-directional shut off.
Care must be taken when applying a butterfly valve in semi-coarse or coarse dry material applications (this includes slurry applications that contain suspended particles).
Advantages of Butterfly Valve
Quarter Turn
Open port
Used with chemical or corrosive media
Compact, lightweight design
Available in large sizes
Low pressure drop and high-pressure recovery
High coefficient of flow
Disadvantages of Butterfly Valve
Thorny to clean
Obscurity with slurries
Throttling limited to low differential pressure
Prospective for cavitations and choke
Unguided disc movement is affected by flow instability
"FLOWRISE" Butterfly Valves Special Features
Smooth and Longer Valve Life.
The integrally mounded liner provided a stable Seat which overcomes the tendency of the Disc (Flap) to push the seat out of Position.
In-situ vulcanizing provides the desired strength to the liner.
Plasticizers in the elastomer formulation ensure a smooth surface which minimizes the friction between disc and liner.
The Stable, tough seat, and low operating Friction all contribute to extend Valves long life.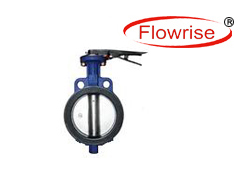 Butterfly Valves, Hand Lever Operated
Total Range of Sizes & Styles.
Meeting your Demands means having the Butterfly Valves you need, when you need them, "FLOWRISE" Butterfly Valves are available from 40MM to 1000MM size and style are Wafer type, Double Flanged end Lugged Type makes it easy for you to find the Valve that meet your Perfect Requirement for your new and existing piping Line.
Short and long neck models are available.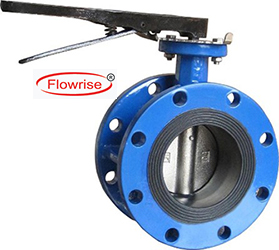 Double Flange End Butterfly Valves
M.O.C Materials Meet Your Requirement
To insure that "FLOWRISE" meets your exacting service requirement "FLOWRISE" Butterfly Valves are available in a wide variety of Materials.
Valve body, disc, stems and Rubber lining all can be individually matched to your Specific operating conditions, including temperature range type and concentration of Fluid and different Flow conditions.
A Contoured Disc ensures a smooth Flow with minimum resistance. The Improved Flow Coefficient of the Valves enables enhanced Regulation Characteristics.
Tight Shut Sealing and Lowest Torque.
The close interference fit between Disc and liner ensures tight shut sealing at the full rated pressure.
With minimum operating effort.
The in situ vulcanizing prevents liner fatigue caused by stretching.
This reduces Operating torque and the tendency for liners to tear and be swept into the line.
The Elastomer formulation of the liner provided a smooth surface, which ensures low operating torque.
"Flowrise" Butterfly Valves all style and size can be equipped with operated in Hand Lever and Actuators. You can choose from standard and throttling handle, gear operated, Pneumatic Actuators and positioners as required.
"Flowrise" Butterfly Valves provide dependable service under the harshest of applications. Because there are no in – line screw, stud – bolt, little or no maintenance is required.
If the Valve should need repair, it can be completely reconditioned in the field using interchangeable stock part, no special tools are needed.
"Flowrise" Put gasket intergral to the body which eliminates the need for a separate gasket between the valves face and companion flange.
In addition as the liner is bonded to the body, it will not hang out or get pinched during installation.
| | |
| --- | --- |
| Size Range | 40MM(1.1/2") TO 1000MM(40") |
| Butterfly Valves Design | BS 5155 / API 609 / MSS SP 67 & ISO 5752 |
| Pipe Flange | TO SUITE FOR 125/150 ANSI CLASS, TABLE – D,E, |
| Pressure Testing | BS6755 PART I |
| Standards | BS 4504 PN10/16, IS 6418 TABLES 6 TO 9 & IS 6392 TABLE 10 TO 20 |
| Body | Wafer type / double flanged end designed to withstand specified pressure intergral cast feet as standard scope of supply for big sizes. |
| End Connction | Wafer End / Flange End / LUGG Type |
| Operatoin | Hand Lever, Manual Gear Box, Electrical Actuator With Turn Worm Pneumatic Operated. |
Industrial Butterfly Valve
Other Material Available on Special Request
 Tempreature range – 20 to 180°c
 Pressure range PN 10 & PN 16
 Face to face distance : as per ISO 5752 wafer short / API 609
Suitable for mounting between flages to ANSI, PIN and BS 10 tables D.E. & F or BS 4504 PN 10 / 16, Tables 6,7 & 8 of IS: 6418 and Table 11,15 & 17 of IS 6392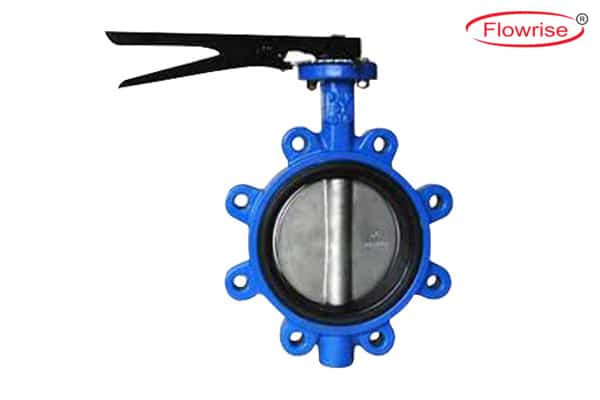 Lugg Type Butterfly Valvess
"FLOWRISE" lined seal valves can also be supplied with gear Unit, Pneumatic / Electric actuator extension spindle, Chain wheel arragement etc. on request.
| | | |
| --- | --- | --- |
| Item | Part | Material Options |
| 1. | Body | Castr Iron I. S. 210 Grade FG200/GG 25; Ductile cast iron GGG 40; Cast carbon steel ASTM A- 216 Grade WCB; Cast stainless steels CF8 & CF8M |
| 2. | Disc | Cast iron I. S. 210 grade FG200/ GG25; Ductile cast iron GGG40; Cast carbon steel ASTM A – 216 Grade WCB; Cast stainless steels CF8 & CF8M |
| 3. | Seat | Nitrile, EPDM, Viton, Silicone |
| 4. | Shaft | AISI 410/304/316 |
| 5. | Bearing | Steel/PTFE |
| 6. | O-ring | Nitrile, EPDM, Viton, Silicone, Teflon PTFE, FEP, PFA |
| 7. | Taper pin | AISI 410/316 |
| 8. | Plug | Steel |
| 9. | Bush | Teflon PTFE |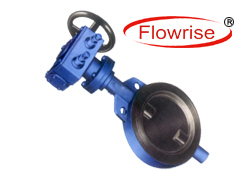 Gear Box Type Butterfly Valve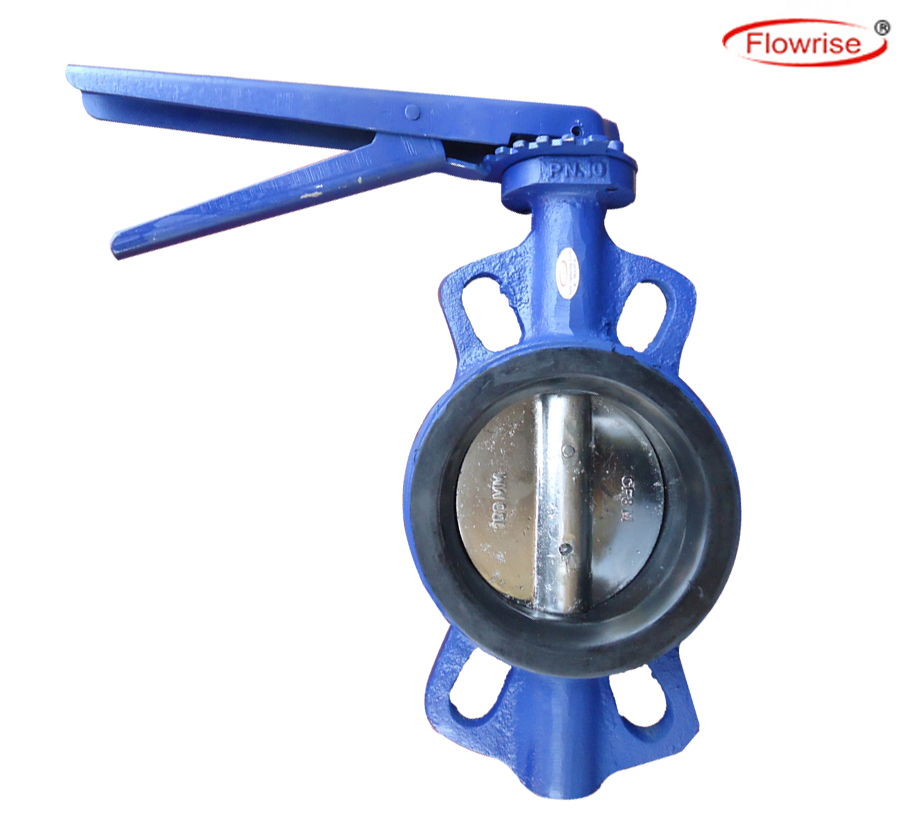 Special Design Butterfly Valves
Sizes of Butterfly Valves:
| | | | | |
| --- | --- | --- | --- | --- |
| DN mm | A | B | C | D |
| 50 | 50 | 43 | 74 | 113 |
| 65 | 65 | 46 | 81 | 121 |
| 80 | 80 | 46 | 89 | 128 |
| 100 | 100 | 52 | 105 | 146 |
| 125 | 125 | 56 | 117 | 158 |
| 150 | 150 | 56 | 140 | 174 |
| 200 | 200 | 60 | 165 | 198 |
| 250 | 250 | 68 | 205 | 245 |
| 300 | 300 | 78 | 230 | 270 |
| 350 | 336 | 78 | 255 | 288 |
| 400 | 386 | 102 | 310 | 350 |
| 450 | 436 | 114 | 335 | 380 |
| 500 | 486 | 127 | 370 | 410 |
| 600 | 586 | 154 | 420 | 490 |
Tag: Butterfly Valves, Butterfly Valve, Butterfly valve design, Butterfly valve symbol, Butterfly valve price, Butterfly valve price, Industrial Butterfly Valve, Butterfly valve Manufacturer in Ahmedabad, Gujarat